Hello all my customers, we also sell on eBay and Aliexress, but my website have the lowest price and faster shipping. Welcome to contact Timo (timosmodelworld@163.com)
Shipyardworks Upgrade Set for 1/700 Scale PLAN Type 055 Destroyer NanChang Sphyrna HTP7001 J7015/Trumpeter 06729 J7016
Detail

1 x Upgrade Set for 1/700 PLAN Type 055 Destroyer NanChang Sphyrna HTP7001 or Trumpeter 06729 -- 2 Versions(J7015/J7016) as for your choice.

upgrade set include: PE sheet, metal barrel, wooden masking sheet.




Please noticed this item is

ONLY

for selling upgrade set, the ship body in the picture is only for demonstration not for selling.
Adding to cart succeed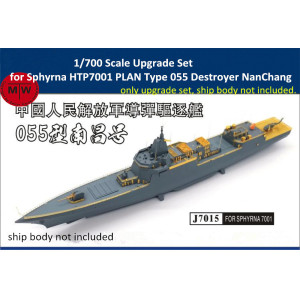 Shipyardworks Upgrade Set for 1/700 Scale PLAN Type 055 Destroyer NanChang Sphyrna HTP7001 J7015/Trumpeter 06729 J7016
color:red,size:xxl
Payment & Shipping
About Us
Subscribe To Our Newsletter