Hello all my customers, we also sell on eBay and Aliexress, but my website have the lowest price and faster shipping. Welcome to contact Timo (timosmodelworld@163.com)
Wooden Deck Masking Sheet for 1/350 Scale Trumpeter 05354 Schleswig – Holstein Battleship 1935 Ship Model CY350057
Detail

1 x Wooden Deck Masking Sheet for 1/350 Trumpeter 05354 Schleswig – Holstein Battleship 1935 Model(include anchor chain for free) CY350057




Please noticed this item is ONLY for selling wooden deck and masking sheet, the ship body in the picture is only for demonstration not for selling.




1. Please use a penknife to cut off the wooden deck to be pasted.

2. Repeatedly compare the positions that need to be pasted to the model deck.

3. Gently tear back glue and paste from top to bottom or from left to right.

4. Finally, use the other end of the penknife for compaction, compaction, and no dislocation.
Adding to cart succeed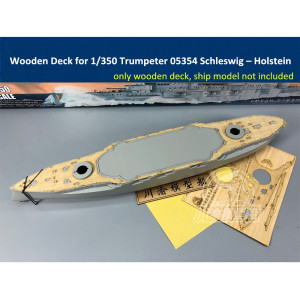 Wooden Deck Masking Sheet for 1/350 Scale Trumpeter 05354 Schleswig – Holstein Battleship 1935 Ship Model CY350057
color:red,size:xxl
Payment & Shipping
About Us
Subscribe To Our Newsletter