Hello all my customers, we also sell on eBay and Aliexress, but my website have the lowest price and faster shipping. Welcome to contact Timo (timosmodelworld@163.com)
Phonograph Gramophone Wooden 3D Jigsaw Puzzle with Music Assembly Model DIY Christmas Brithday Gift
Detail

Package Include:

1 x 3D phonograph gramophone assembly model set  (include music box)




Please noticed when you make this puzzle, there will some black charcoal on the edge of wooden parts which come from the high temperature laser cutting, it is no-harm to your health, you can wash your hand with clean water, the charcoal will go away quickly.




The traditional puzzle has long attracted people with its features like entertaining, educating and environment-friendly. Our 3D puzzle game, not only inheritates all the advantages, but will also bring you new surprises:

1.Far more challenging: calling for more spatial imagination, ability to identify graphics, ehich arouse your interest!

2.Do more to help develop your ability of observation and coordination(eyes and hands)

3.Do more to help cultivate your patience and concentration. You will find yourself more tough to difficulties!

4.Win the game, win yourself a better sense of accomplishment!




Instructions for assembly:

1.Get the section bar out and use half-wet rag to mop the edges.

2.Make sure to have a concept of where each piece is. Find the two positions marked "1" in the manual and the corresponding parts in panels, then assemble the two "1" pieces together. Find the two positions marked "2" inthe manual and the corresponding parts in panels, then assemble the two "2" pieces together. So as to "3", "4".

3.An optional way is to explore how to assemble the pieces by only looking at the picture on the package, and you will get sense of achievement after that.

4. Use gel in the junction if necessary. Our product not include this gule, please understand.
Adding to cart succeed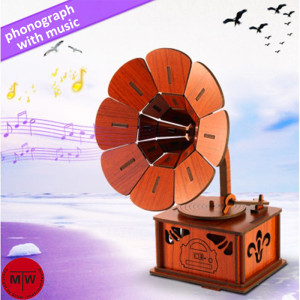 Phonograph Gramophone Wooden 3D Jigsaw Puzzle with Music Assembly Model DIY Christmas Brithday Gift
color:red,size:xxl
Payment & Shipping
About Us
Subscribe To Our Newsletter