Hello all my customers, we also sell on eBay and Aliexress, but my website have the lowest price and faster shipping. Welcome to contact Timo (timosmodelworld@163.com)
Chuanyu CY508 1/200 Scale Russian Novgorod/Новгород Circular Battleship 3D Printing Assembly Model & RC Upgrade Set
Detail

Product Name:

Chuanyu CY508 1/200 Scale Russian Novgorod/Новгород Circular Battleship 3D Printing Assembly Model & RC Upgrade Set

Item NO.:

CY508

Weight:

0.58 kg = 1.2787 lb = 20.4589 oz

Brand:

Chuan Yu Model

Creation Time:

2019-11-25

CY508 circle shape diameter 160mm. Ship body material SLA Print, detail part are resin printing.

Products include Metal shaft couplings, motor, metal propeller, wooden deck, handrail PE sheet.

Reminder:

Electronic equipments (remote control, ESC, battery) are not included.

This is not a toy.

Assemble need glue(suitable for ABS Plastic), cement and paint not included, you can purchase separately. Hope you can understand.

Package Included:

1 x 1/200 Scale Russian Novgorod Battleship Assembly Model RC Upgrade Set CY508

Novgorod (Russian: Новгород) was a monitor built for the Imperial Russian Navy in the 1870s. She was one of the most unusual warships ever constructed, and still survives in popular naval myth as one of the worst warships ever built. A more balanced assessment shows that she was relatively effective in her designed role as a coast-defence ship. The hull was circular to reduce draught while allowing the ship to carry much more armor and a heavier armament than other ships of the same size. Novgorod played a minor role in the Russo-Turkish War of 1877–78 and was reclassified as a coast-defence ironclad in 1892. The ship was decommissioned in 1903 and used as a storeship until she was sold for scrap in 1911.

The design of these ships was very controversial while they were being built in the 1870s, with many articles being published in the newspapers of the day by supporters and detractors, and later picked up by historians. One such account, published in 1875, claimed that Novgorod made an uncontrollable turn while on the Dniepr, while Reed, describing a time when the ship's engines on one side were reversed during a cruise in Sevastopol Bay, wrote: "The circular form is so extremely favourable to this kind of handiness that the Novgorod can easily be revolved on her centre at a speed which quickly makes one giddy. She can, nevertheless, be promptly brought to rest, and, if, needed have her rotary motion reversed." It would seem probable that the two reports quoted above were combined into the story as given by Fred T. Jane: "On a trial cruise, they (Novgorod and Vitse-admiral Popov) went up the Dniepr very nicely for some distance, till they turned to retire. Then the current caught them, and they were carried out to sea, whirled helplessly round and round, every soul on board helplessly incapacitated by vertigo.
Adding to cart succeed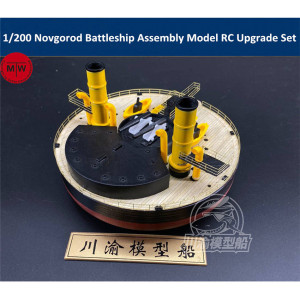 Chuanyu CY508 1/200 Scale Russian Novgorod/Новгород Circular Battleship 3D Printing Assembly Model & RC Upgrade Set
color:red,size:xxl
Payment & Shipping
About Us
Subscribe To Our Newsletter